World Refugee Day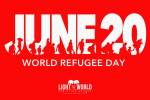 on June 20 we recognize World Refugee Day. It is a time to bring awareness to the plight of refugees and all those who have been forcibly displaced from their homes.
Many of our global partners are currently working with refugees and displaced populations. An informal camp of Syrian families lies a few miles from the Syrian border in Jordan. Families have already been there for 5 years, living in tents in the desert. The Orthodox Initiative has been helping to provide basic needs for these families, like food and hygiene items. Some children in the camp are able to attend a local Jordanian school for part of the day, but some can't due to lack of a class for their grade. The families have taken matters into their own hands in order to keep educating their children. A woman who was attending law school before she fled her home in Syria has become the part-time teacher. Her classes are taught in a modern version of a one-room schoolhouse with children of different ages all learning together in one tent.
World Refugee Day is an opportunity to lift up the plight of refugees and those who have been forcibly displaced around the world. You can find worship resources and information here:
https://www.globalministries.org/resources_special_days_wrd_index.
Thank you for your support.
Rebekah Choate
Associate for Global Advocacy and Education