Bishop T. Garrott Benjamin Jr.
Senior Pastor Emeritus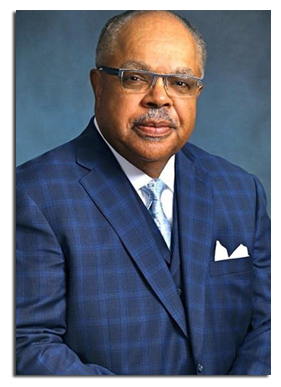 Dear Friends:
I welcome you in Jesus name. Many of you may know for 43 years it was my honor to pastor what I characterized as "the greatest church on the planet".I taught and emphasized the Gospel truth that "God is love". As a shepherd it was my my job to make sure that our people had an encounter with Jesus Christ, the great Shepherd every time they walked through our doors. As a result they could share that encounter with their fellow worshippers but even more importantly with the world outside the church. Sharing Jesus Christ and loving one another is exactly the same thing. We taught that Christianity was not primarily a religion but a relationship where the love of God is shared with fellow human beings. There was no greater compliment than to hear visitors say "that church is so full of love that you can even feel it on the parking lot." Our city, nation and world is desperate need of " love sweet love , that is the only thing there is not plenty of ."
Light of the World by definition is to bring light and love to the dark places in our community, our city and our world. Sharing the love is our lifestyle and not our program. Let's get on with it and "God" one another.
Love bless you,
Bishop T. Garrott Benjamin Jr.
Senior Pastor Emeritus
"This is the kind of love we are talking about-not that we once upon a time loved God, but that He loved us and sent His Son as a sacrifice to clear away our sins and the damage they have done to our relationship with God". 1 John 4:10 (MSG)