Bishop T. Garrott Benjamin Jr.
Senior Pastor Emeritus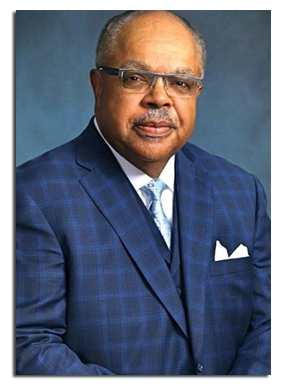 Bishop Tom Benjamin is widely known for his gifts of hospitality, generosity, and compassion. Bishop Benjamin's ministry has produced 45 seminary graduates with M.Div. degrees, 8 (eight) of that number have earned Doctorates. They serve the church globally and ecumenically. They are one-third female and range from local pastors and chaplains to seminary administrators and denominational department heads. They serve mostly Disciples of Christ, but also United Methodist and Southern Baptist congregations. This is one of the unique, unparalleled, and unprecedented contributions of Bishop Benjamin, to the whole church, and confirms his calling as Bishop in the Lord's Church.
Earning his undergraduate degree from St. Louis University (B.A.), he also holds two (2) earned Cum Laude graduate degrees (M.Div. and D.Min.) from Christian Theological Seminary, Indianapolis, Indiana. Additionally, he holds 6 (six) honorary Doctorate degrees and a host of other awards that recognize his deep commitment to quality preparation for ministers as well as his bridge-building between races and denominations, in the City of Indianapolis.
Bishop Tom Benjamin faithfully served for 43 years at Light of the World Christian Church before retiring in 2012 and being named, Senior Pastor Emeritus. Bishop & Lady Beverly Benjamin currently reside in Palm Desert, California. He has a private coaching practice, specializing in personal motivation, empowerment and vision-casting for athletes, entertainers, ministers, executives, as well as anyone else willing to invest in themselves. He also serves as an Adjunct Professor at Wesley Seminary. He often says, he is not retired, but "refired" and still shares the liberating gospel of Jesus Christ.