Our History - At A Glance
Church Name
Minister
Years of Service
Christian Mission Church
D. Orr
1866-1867
Christian Mission Church
Dr. Rufus Conrad
1867-1870
Christian Mission Church
No Regular Minister:
George W. Reed and
James W. Dorsey served
intermittently.
1871-1877
Name Changed to
Salem Chapel
1873
Salem Chapel
W. F. Mason
1877
Salem Chapel
No Regular Pastor
1879-1880
Salem Chapel
George W. Reed
1881
Name Change to
Second Christian Church
Leroy J. Redd
1882-1888
Second Christian Church
Richard Clark
1889
Second Christian Church
G. G. Bailey
1890-1892
Second Christian Church
No Regular Pastor
1893-1894
Second Christian Church
Alexander Campbell
1895-1896
Second Christian Church
Mansfield F. Womack
1897-1898
Second Christian Church
Henry L. Herod
1898-1935
Second Christian Church
Baxter Carroll Duke
1935-1937
Second Christian Church
G. W. Winders
1937
Second Christian Church
Jason M. Cowan
1937-1938
Second Christian Church
W. D. Campbell
1938-1941
Second Christian Church
Cleo W. Blackburn
1941
Second Christian Church
Foster T. Craggett
1941
Second Christian Church
Jessie J. Hawkins
1941-1942
Second Christian Church
Cleo W. Blackburn
1942-1943
Second Christian Church
Robert Hayes Peoples
1943-1969
Second Christian Church
Dr. T. Garrott Benjamin, Jr.,
later Bishop T. Garrott
Benjamin, Jr.
1969-2012
Name Change to
Light of the World
Christian Church
Bishop T. Garrott Benjamin, Jr.
1984
Light of the World
Christian Church
Dr. David A. Hampton
2012-2019
History Highlights
The Formative Years: 1866-1898
Light of the World Christian Church was founded as Christian Mission Church in 1866, located at Second Street and Lafayette Railroad. Lay preacher, Brother D. Orr, served as the congregations' first leader. He kept this small congregation together until they were ready and able to call their first permanent pastor, Dr. Rufus Conrad. Dr. Conrad was not only the preacher; he was a teacher and a medical doctor. In 1868, in a report to the Central Christian Church, he stated, "the Church is in as good a condition as could be expected, numbering at this time 31 members." The period from 1871 - 1894 were considered the "lean" years for the church. There was a marked absence of pastoral leadership with lay preachers providing direction for the congregation which ranged in size from 50 - 100 members.
In 1873, the name of the church was changed to Salem Chapel, and the congregation moved into a small church building located at Fifth and Illinois Street. Today, that location is the northeast corner of 14th and Illinois Street. Between 1884 and 1888, the church moved to Fourth and Howard Street, which today would be 13th and Missouri. Additionally, during this period, the church name was changed to Second Christian Church. The real growth for the church began in 1895 with the national ministry of Alexander Campbell, a well-known Disciples leader, and it continued under the leadership of Mansfield F. Womack until 1898.
Henry L. Herod Years: 1898-1935
In October 1898, Rev. Henry L. Herod, became pastor of Second Christian Church. At the time, Rev. Herod was a young college student pursuing his degree from Butler University. A great man of vision, Rev. Herod brought dignity and formality to the church worship service. During his years of service, the church grew educationally, economically and spiritually. Rev. Herod was determined and committed to preserve the great gift his race had brought to the American culture - Negro Spirituals. To preserve this history, he amassed a choir of 500 adult and 40 children's voices to present a program of Negro spirituals to the City of Indianapolis. His interest in the development of the Negro people went beyond local matters. Nationally, along with other leaders, he established The National Christian Missionary Convention. Their expressed purpose was to promote the work of the church in leadership training and evangelization of Negroes. Rev. Herod emphasized a functional organization to implement the programs of the church. Members of Second Christian Church took on leadership roles in the city at the YMCA, the Public School System, and the Neighborhood Development Initiatives of Flanner House. Second Christian Church continued to grow in size and in political significance as a place where Negroes were growing in dignity and racial pride. There was an increased interest during this time to develop leadership in the church and its people. In 1910, the congregation built a new building at 9th and Camp Street. Rev. Henry L. Herod died in 1935.
Robert Hayes Peoples Years: 1934-1969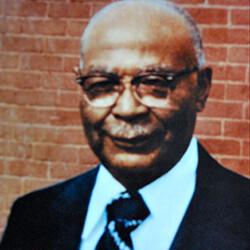 The calling of Rev. Robert Hayes Peoples, on October 1, 1943, marked a new era of life and work for Second Christian Church. Rev. Peoples had just completed a significant decade of service as the National Field Secretary for the Direction of Religious Education and Church Development among Negroes. This training prompted him to launch an extensive self-evaluation of Second Christian Church to determine new goals and means by which to realize these goals. In June 1948, the church realized its first major goal and moved to 29th and Kenwood. Once moved, Rev. Peoples focused the congregation on being a ministry of community involvement, religious education and functional organizational structure. During this time of growth, membership grew from 282 members in 1943 to more than 800 members in 1966.
Rev. Peoples served as a leader in the community and continued to develop relationships that promoted unity in the city. He established "Brotherhood Sunday" where the pastor and choir would exchange pulpits with a White congregation in the city. Second Christian Church became known as a leader of evangelism in the city. Members were trained in evangelism and during one evangelism outreach campaign, 150 new souls were won to Christ. During a city-wide crusade, Evangelist Billy Graham, referred over 100 new converts to Second Christian Church. Desiring to keep the church young and growing, Rev. Robert Hayes Peoples retired from Second Christian Church in 1969, ushering in the years of a dynamic new pastor.
Bishop T. Garrott Benjamin Jr., Senior Pastor Emeritus Years: 1969-2012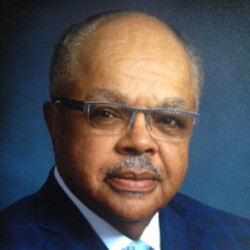 On the first Sunday in October, 1969, Pastor T. Garrott Benjamin, Jr. accepted the torch from Rev. Peoples and entered the pulpit to preach his first sermon, "Under New Management". This sermon introduced the new pace and direction Pastor Benjamin held for his congregation. He was setting a new standard of excellence for not only the church but the city as well. He set forth a progressive agenda that would expand the church's involvement in the community and transform thousands of lives through spiritual renewal...and that is just what he did. The 1970's introduced a period of unprecedented growth in the church. Membership was soaring during this time and the church's annual budget multiplied over ten times allowing for the development of numerous community outreach programs and the hiring of several full-time staff positions. Second Christian Church had established itself as a church dedicated to supporting its community and improving its city. Along with community outreach programs, Pastor Benjamin focused resources and finances on the development of youth programs.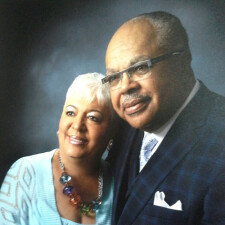 Husband to First Lady Beverly Benjamin and father of three sons, Thomas Benjamin III, "Benjy", Channing and Chris, Pastor Benjamin had a special love for the issues impacting the lives of young Black boys. He is the author of several books including, Boys to Men, The Home Alone Syndrome, It's All in Your Mind and Mama's Boy. He focused his preaching and teaching on uplifting young Black boys and the importance of the role of Black fathers. He stressed the importance of men being examples of excellence for their sons and led his life as a shining example for his own sons.
In 1980, Second Christian Church was recognized by the National Headquarters of the Christian Church (Disciples of Christ) as the largest and fastest growing Disciples congregation in the world. As the church continued to grow, Pastor Benjamin had the vision that more space was needed to meet the spiritual goals of this congregation. He began a campaign "Miracle on 38th Street" as the church prepared to move to its new home at 5640 E. 38th Street. Through faithful prayer and an unprecedented million dollar loan to an African-American church, the congregation purchased the property and moved in 1982. The new church featured seating for 1,500 people, large worship spaces, an abundance of classrooms for Sunday School and Bible Study, a large parking lot and a sanctuary that was lighted and wired for a television ministry - Pastor Benjamin's next frontier.
However, before embarking on the television outreach ministry, the issue of the church name had to be addressed. Pastor Benjamin was greatly impacted by a seed planted by Dr. Robert Schuller of the Crystal Cathedral when he said, "Tom, with a ministry as vital and powerful as you have, you are second to no one." With those words, in 1984, in order to match the mission and spirit of the church, Second Christian Church's name was changed to Light of the World Christian Church. The Burning Bush became the church's logo representing life, light, vitality, warmth, God's omnipresence and omnipower as we fulfilled the church's mission of winning souls for Christ.
This mission was expanded to include a television outreach ministry. On Sunday, October 5, 1986 at 6pm Pastor Benjamin's powerful and prosperous teachings aired on cable television and channel 40, presented by Heaven on Earth Ministries. The outreach response was overwhelming. By 1987, our "local church with a world vision" took the television ministry nationwide via Black Entertainment Network (BET). The ministry expanded again, in 1988,to include Trinity Broadcasting Network (TBN) which gave Light of the World Christian Church national viewership in over 35 million households. By 1989, Heaven on Earth Ministries was added to the Armed Forces Network. This provided worship services to Armed Forces in more than 70 overseas nations, to naval ships and to the service men and women stationed in Saudi Arabia during Operation Desert Storm. The church was surpassing its outreach goals, touching millions and truly proving to be a "Light" in the world. Light of the World Christian Church had embodied its tagline, "Welcome to the 'Light' Where the Love Shines Bright".
Locally, outreach efforts included the annual Thanksgiving Day Dinner with the residents of the Lionel Artis Home, Nursing Home Ministry, Prison Ministries at the Marion County Jail, the Boys' School in Plainfield, IN, the Men's Prison in Pendleton, IN and the Women's Prison in Indianapolis, IN. Additionally, partnerships were made with the King's Closet for clothing drives, and members of the community received daily donations from the food and clothing program. Financial assistance for electrical and heating bills was also provided.
Dr. Benjamin's passion for education was realized with the opening of the Respect Academy in 2003. The doors opened with 40 children ages infant to kindergarten. Reverend Helen Walton, Ph.D., was the first Director of the Respect Academy. Enrollment continued to grow over the next several years as the church continued to expand its ministry for children.
Bishop Benjamin is widely known for his gifts of hospitality, generosity and compassion. After serious consideration and much prayer, he was consecrated to the Bishopric by an ecumenical group of national Bishops in 1996 at the Indiana Convention Center. He was also the Presiding Bishop and founder of the Christian Ecumenical Covenant Fellowship (CECF), a national interdenominational fellowship of ministers and pastors who sought the covering and counsel of Bishop Benjamin.
Bishop Benjamin's ministry has produced 45 seminary graduates with M.Div. degrees, 8 (eight) of that number have earned Doctorates. They serve the church globally and ecumenically. They are one-third female and range from local pastors and chaplains to seminary administrators and denominational department heads. They serve mostly Disciples of Christ, but also United Methodist and Southern Baptist congregations. This is one of the unique, unparalleled and unprecedented contributions of Bishop Benjamin, to the whole church, and confirms his calling as Bishop in the Lord's Church.
Earning his undergraduate degree from St. Louis University (B.A.), he also holds two (2) earned Cum Laude graduate degrees (M.Div. and D.Min.) from Christian Theological Seminary, Indianapolis, Indiana. Additionally, he holds 6 (six) honorary Doctorate degrees and a host of other awards that recognize his deep commitment to quality preparation for ministers as well as his bridge-building between races and denominations, in the City of Indianapolis.
Bishop Benjamin continued his leadership for 43 years at Light of the World Christian Church before retiring in 2012 becoming Senior Pastor Emeritus. In 2003, Bishop Benjamin relocated Light of the World Christian Church to its current campus located at 4646 N. Michigan Road. This expansive campus houses the Church, the Senior Living Center and the White House for administrative offices. Bishop Benjamin currently spends his time between Indianapolis and California. He has a private coaching practice, specializing in personal motivation, empowerment and vision-casting for athletes, entertainers, ministers, executives, as well as anyone else willing to invest in themselves. He also serves as an Adjunct Professor at Wesley Seminary
Dr. David A. Hampton: 2012- January 2019
A special succession search committee selected Dr. David A. Hampton to succeed Bishop T. Garrott Benjamin, Jr. in 2012. Rev. Dr. Hampton was unanimously voted in as the new Senior Pastor of Light of the World Christian Church and was installed December 2, 2012. Pastor Hampton is married to First Lady Hope Hampton, and is father to two children, Taylor and Gabriel, and grandfather of Ava Rose. A native of Indianapolis, he attended Lawrence North High School and earned a Bachelors degree in Criminal Justice from the University of Indianapolis in 1994. He holds a Master of Theological Studies degree (2000) and a Doctor of Ministry degree in Practical Theology (Summa Cum Laude) from Christian Theological Seminary in 2006. Dr. Hampton transitioned from his role as Senior Pastor at the historic Bethany Baptist Church in Brooklyn, NY to assume the position of Senior Pastor for Light of the World Christian Church. Before being pastor at Bethany, he served as Pastor of Zion Hope Baptist Church in Indianapolis and also established Antioch Church, a nondenominational congregation.

Committed to his community, Dr. Hampton has served as a founding board member of Brooklyn City Prep Charter High School, on the advisory board of the Boys and Girls High School and worked with the Jewish Community Relations Council in New York. He is also committed to global missions, and has preached the gospel abroad, including Israel, Haiti, Kenya, Egypt, South Africa and Mexico. He is the author of the book Narrative of Theology as an Hermeneutic Approach and has published several other articles. Upon his return to Indianapolis, Dr. Hampton continued his commitment to issues of social justice, education and addressing the needs of those less privileged. Dr. Hampton participated in the 2008 New York protest of the Sean Bell verdict and the 2012 Indianapolis protest of the Trayvon Martin shooting. In both protests, he was arrested and jailed for civil disobedience.
Dr. Hampton has served on the City of Indianapolis Board of Zoning Appeals, the Indianapolis Urban League and the Serve Indy Committee. He is a member of Omega Psi Phi Fraternity, Inc. and Prince Hall Free & Accepted Masons. He received the Martin Luther King, Jr. Human Rights Award in Religion in 2007 and was recognized by President Barack Obama with the Presidential Call to Service to Call Award in 2011. He was also inducted into the Lawrence Township Alumni Hall of Fame in 2016.
In addition to serving his congregation, Dr. Hampton currently serves as the Deputy Mayor of Neighborhoods for the City of Indianapolis, under Mayor Joe Hogsett. Ever concerned about the community and rising tensions concerning police shootings, Dr. Hampton led an Interfaith Prayer Service bringing together faith and civic leaders to pray for unity in our city and peace in our country.
In 2016, the National Association for the Advancement of Colored People (NAACP) presented Dr. Hampton with the NAACP Outstanding Achiever award at their Annual Freedom Dinner Fundraiser. This year's theme "Our Lives Matter…Our Votes Count!" raised funds for local advocacy groups. At his core, the Rev. Dr. David A. Hampton believes in the rights of ALL people and preaches a biblical word with real life application that always encourages his congregation to "Get Involved". Whatever your gifts, use them in the service of God!