WEDNESDAY MIDWEEK BIBLE STUDY SERIES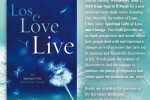 WEDNESDAY MIDWEEK BIBLE STUDY SERIES
Lose, Love, Live: The Spiritual Gifts of Loss and Change
Join us starting Wednesday, May 1, 2019 from 7pm to 8:30pm for a new midweek bible study series featuring Dan Moseley, the author of Lose, Love, Live: Spiritual Gifts of Loss and Change. This book provides an in-depth perspective and stories about how people deal with and experience changes as well as losses that have led to amazing and wonderful discoveries in life. It will guide the journey of discovery to find the courage to embrace the places of emptiness that create space for newness in our lives.
Books are available for purchase at By His Grace Bookstore
4646 North Michigan Road, Indianapolis, Indiana 46228.