Thanksgiving LWCC Food Pantry Needs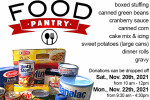 Thanksgiving is swiftly approaching and the LWCC Food Pantry needs our support. Food items requested are:
boxed stuffing canned green beans
cranberry sauce canned corn
cake mix & icing sweet potatoes (large cans)
dinner rolls gravy
Food may be dropped off at the church on Saturday, November 20 from 10am - 12pm, and Monday, November 22 between 9:30am – 4:30pm. Thank you in advance for helping the LWCC Food Pantry continue to be a blessing to our neighbors in need.