Summer Growth Group Registrations Now Open!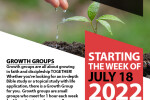 COURSE DESCRIPTIONS:
The Shack – Trusting the Power of the Trinity
This Growth Group will discuss the book and watch the movie The Shack simultaneously, and come to grips with the beautiful ways God through the power of the Holy Spirit works in our lives on a daily basis.
Jesus: The Incarnation to Galilean Ministry
This Growth Group will explore the advent of God's son among us through his Galilean ministry. Using A.T. Robertson's A Harmony of the Gospels the class will weave together all of the Gospels information about our savior to more fully understand this early part of his ministry. The Gospel of Luke will be our formatting text using the other Gospels to complete the account.
What Matters Most: Ten Lessons in Living Passionately from the Song of Solomon
Using the work of Scripture as inspiration, we will explore 10 lessons that teach women how to discover what their passions are, and how to create direction and meaning in their lives. Seeks to help participants to understand that passion is not something awakened by other people, but an inner source of energy that flows out of every aspect of one's being. In doing so, women are inspired to fight against stereotypes and ignore the conventional way of doing things in order to find their own happiness and joy.
Covenant Conversations for Disciples
This curriculum for Disciples is a journey through interactive conversation towards faithfully living into covenant as the Christian Church (Disciples of Christ). These guided sessions will take participants into a deeper reflection of what it truly means to live in a covenantal relationship with each other, with the church, and with God. This gives an excellent insight into the Christian Church (Disciples of Christ).
TITLE

FACILITATOR(S)

DEMOGRAPHIC

DAYS / TIMES

The Shack –

Trusting the Power

of the Trinity

Dr. Deborah Daniels

Young Adult &

Adult

Men & Women

Thursdays

7pm – 8pm ET

Jesus:

Incarnation To

Galilean Ministry

Rev. Dr. John Foulkes

& Floyd Bridges

Young Adult &

Adult

Men & Women

Saturdays

10:00 – 11am ET

What Matters Most:

Ten Lessons in

Living Passionately from

the Song of Solomon

Rev. Dr. Pat Carson

& Min. Carmen Woodson

Young Adult &

Adult

Women

Tuesdays

6:30– 7:30pm ET

Covenant Conversations

for Disciples

Min. Leah Thomas Brown & Kevin Daniels

Young Adult &

Adult

Men & Women

Saturdays

9:30am -10:30am ET