LWCC Summer Series - Extreme Makeover: LWCC Edition Nomination Form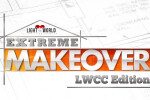 Light of the World Christian Church (LWCC) is committed to being the hands and feet of Jesus in the Indianapolis community. As a part of our LWCC Summer Series, the Community Service team has developed Extreme Home Makeover - LWCC Edition.

This project will connect individuals in our community with free home improvements in an effort to improve their living conditions, overall quality of life, and to reflect the actions of Jesus, whose words "Truly I tell you, whatever you did for one of the least of these brothers and sisters of mine, you did for me." (Matthew 25:40) stand as a cornerstone to LWCC's ministry.

This project is near & dear to our hearts, and in order to execute it in excellence, we need YOU! Please nominate a family for this awesome opportunity.
Thank you for nominating this family to receive home repairs through our Extreme Makeover: LWCC Edition. Nominations close on Sunday, July 25, 2021. Please note not all families nominated will be selected. Selected families will be notified by August 20, 2021.