Light of the World turns to first female pastor to fill interim role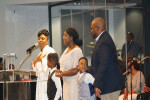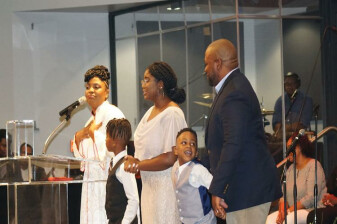 In need of an interim leader to help the transition to its next permanent pastor, Light of the World Christian Church appointed Rev. Janae Pitts-Murdock, who became the 152-year-old church's first female senior pastor.
Pitts-Murdock, who grew up in Detroit and most recently worked at a church in Arkansas, said she came to Indiana because it was a chance to get back in the Midwest and use all of her talents.
"Why not come to Indiana!" she laughed. "… Fayetteville, Arkansas, is a long way from Indianapolis, Indiana, but there are lots of reasons why this opportunity made sense."
In previous roles as a pastoral leader dating back to 2007, Pitts-Murdock said it was usually the case that churches leaned on her preaching or her ability to connect with people or her business credentials (she has a master's degree in business administration from the University of Memphis). At Light of the World, though, Pitts-Murdock feels like she can use her whole skillset.
The church was in need of a new pastor after David Hampton left to become deputy mayor of neighborhood engagement for the city of Indianapolis. In the Disciples of Christ denomination, which Light of the World is a part of, a search committee can recruit an interim pastor. Pitts-Murdock said she won't be considered for the permanent position and won't be part of the search for the next leader. She said that makes it easier to be a leader.
"I have a very specific role to help the church transition into a more stable, healthier organization," she said, "and so it's very difficult to make hard decisions, unpopular decisions, difficult choices when I'm also vying for the long-term job."
Light of the World was without a pastor since January, which left it to church elders to keep things going smoothly. Myron Richardson, head elder, said Pitts-Murdock is the answer to their prayers.
"She's a blessing," he said. "… Without a pastor, a church is in the wilderness. You need a shepherd. She will be the shepherd of our sheep."
Light of the World was not in a uniquely dangerous situation. Every church thinks about where the money is coming from, who's walking through the doors on Sunday and how to guide the congregation toward a stable future. Getting a pastor, even on an interim basis, means Light of the World now doesn't have to do that without a bona fide leader.
Entrusting a woman to be that leader is rare territory for churches. It's uncommon in many branches of Christianity to have a female pastor, and the two largest faith groups in America — the Roman Catholic Church and Southern Baptist Convention — don't allow women to be ordained.
"That was a bold step that we made, but she was more than qualified," said Church Council President Shatrese Flowers, who was head of the 11-person search committee. "We didn't let her gender get in the way of us making the best decision for our congregation."
Pitts-Murdock had her first Sunday as senior pastor Aug. 20 and said it was a "sobering" experience to be in a new environment with so many counting on her.
"I felt supported, I felt affirmed, I felt welcomed by the congregation," she said. "It was a good day."
Contact staff writer Tyler Fenwick at 317-766-1406. Follow him on Twitter @Ty_Fenwick.
http://www.indianapolisrecorder.com/religion/article_8eb97a98-c4db-11e9-8378-1721ed6d01dd.html