Focus Group Participants Needed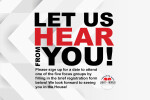 Hello Light of the World Church Family! As we've pressed towards hiring a permanent senior pastor, we have asked you to contribute your voice to discern the best candidate for our beloved church and now we want to share the results of our congregation's input. Please sign up for a date to attend one of the five focus groups by filling in the brief registration form below! We look forward to seeing you in the House!
We look forward to the opportunity to share with you the collective voice of our congregation.